Sustainability at DMS
At David Murry Salon we believe it is possible to create a salon space that is geared toward more sustainable practices making it easier for all to feel good in the pursuit of looking good. In 2019 David Murry Salon partnered with Sustainable Salons to minimise the salons footprint and maximise our impact on people, patrons and the planet. The following measures help the salon eliminate 95% of the negative impact generated from salon services:
Our plastics are collected, cleaned and upcycled into new products.
All salon metals (including foil from your highlights) and paper are sold for recycling, and the proceeds are donated to OzHarvest and KiwiHarvest to provide meals for people in need.
Your hair is collected from the salon floor and stuffed into stockings to make Hair Booms that can one day help clean up oil spills along our coastlines.
All collected ponytails 20cm or longer are distributed to charitable organisations to create wigs for those suffering from cancer or alopecia.
Chemicals are collected, pooled and sent to chemical recycling plants where they're neutralised and turned into recycled water.
Select disposable hygiene products used during treatments are pulled apart and the materials are sent for repurposing.
Using 100% biodegradable salon towels, hand towels and neck towels saves on water and electricity associated with laundry costs while reducing our carbon footprint.
Our zip tap helps us reduce plastic waste by not buying bottles of filtered or sparkling water.
Greener environmentally friendly salon products that endorse practices like packaging sourced from sustainable forests, printed with plant-based inks with packaging made from at least 50% recycled materials.
On top of these great initiatives David Murry Salon's partnership with Sustainable Salons is creating stronger futures for people with a disability, by providing purposeful work within their material collection and processing streams. Dedicated to helping people with a disability live fulfilling lives the Sustainable Salons Sydney depot employs up to 23 people with a disability to work across their processing streams.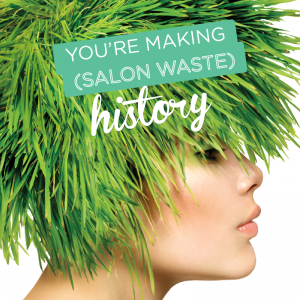 For less than the price of a coffee…
David Murry Salon has made it possible for our guests to eliminate 95% of the negative impact of their salon service via a small fee on their final service bill. This green fee goes toward supporting a range of important sustainability and community initiatives:
40% – Resource collection and redirection
25% – Implementing green practices
20% – Supporting the community
10% – Researching recycling solutions
5% – Awareness and education
Thank you for working with us to ethically dispose of waste produced by the product and services we choose to consume.