About
David Murry Salon was born over 10 years ago when Creative Director David Murry first saw the need for a hair studio in Brisbane where people could enjoy a premium salon experience in a fashionable, cultured and ego free environment.
From the moment you step inside, you'll find yourself on a customised sensory journey, where every detail has been created for an enriched experience. Step into an ambient space with fun music, delicious beverages and baked treats on offer. You will immediately notice the aroma of one of three custom fragrances filling the air and once seated, enjoy our infamous signature aromatherapy massage. For the ultimate in privacy and relaxation, enjoy the comfort of our discreet treatment room while your hair is lathered and slathered in delicious hair treatments.
The long-established crew of hair stylists at David Murry Salon have superior skills in crafting unique style cuts and custom colours that suit you and the level of maintenance in which you are comfortable.
With a vibrant and honest consultation process, we place importance on achieving re-creatable healthy hair.
We look forward to getting our hands on your hair.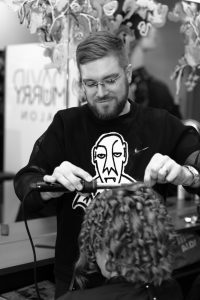 "David Murry Salon is about our people and our guests, it is not about me. You will most likely see me flapping around the salon doing whatever needs to be done to make the day run smoothly and your visit memorable". – David Murry